The Unique Tredyffrin Jones Log Bank Barn & Its Distant Log Barn Cousins
Greg Huber, Architectural House and Barn Historian
October 21, 2015
@
7:00 pm
–
9:00 pm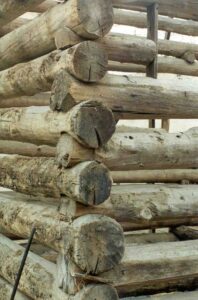 Greg Huber will present "The Unique Tredyffrin Log Bank Barn and Its Distance Log Barn Cousins" on Wednesday, October 21. His talk will focus on the unique Tredyffrin Township log bank barn, the Jones Log Barn, that was dismantled in the fall of 2000. This barn had some remarkable aspects and even its mere existence and survival into the 21st century was miraculous.
Included in Huber's talk is a perspective on log barn architecture as it developed in southeast Pennsylvania and beyond. Its evolution makes for a fascinating tale and the unusual role that the Jones Log Barn played. The barn was a very rare English based structure as opposed to the far more common German related constructed log barn styles that were built in many counties in Pennsylvania. You will learn many of the constituent parts of these very old structures and also gain some insight into how to estimate the construction era of old barns. It is not as difficult as you might imagine.
Greg Huber is a barn and house historian, consultant, and owner of Past Perspectives and Eastern Barn Consultants who creates house and barn histories. Since 1971, Huber has specialized in pre-1840 house and barn architecture of Holland Dutch, English, and Pennsylvania Swiss-German cultures. Huber has documented more than 8,000 vernacular buildings, over 3,000 homestead houses and 5,000 barns. He has authored 200 articles and co-authored two books — 'The New World Dutch Barn' and 'Stone Houses -Traditional Homes of Pennsylvania's Bucks County and Brandywine Valley'.