Philadelphia Mansions: Stories and Characters Behind the Walls
Thom Nickels, Writer and Lecturer
October 24, 2018
@
7:00 pm
–
9:00 pm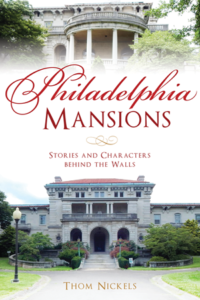 Philadelphia's grand mansions and architectural treasures reflect its iconic status in American history, for each Greek Revival home and Corinthian column tells a compelling story of the people behind it. Historic Strawberry Mansion in North Philadelphia was home to Judge William Lewis, a Patriot who defended colonists accused of treason and was Aaron Burr's defense lawyer. Socialite, millionaire and world-renowned art collector Henry McIlhenny made his home at Rittenhouse Square and left his art collection to the Philadelphia Museum of Art. Famed architect Addison Mizner's Spanish Colonial Revival house La Ronda brought the stark contrast of South Florida to Philadelphia.
Author Thom Nickels will present stories from his recently released book, Philadelphia Mansions: Stories and Characters Behind the Walls. His lecture will focus on the historic mansions and the people behind them, including Fairmount Park's Strawberry Mansion, the galloping life of Hope Montgomery Scott in and outside the gilded halls of Ardrosson and Loch Aerie Mansion in Frazer (next door to what is now Home Depot), an estate which was nearby Nickels' childhood home.
The author of 13 books, including Philadelphia Architecture, Out in History, Two Novellas and Literary Philadelphia: A History of Prose & Poetry in the City of Brotherly Love, Nickels has written extensively for many publications including The Philadelphia Inquirer, the Philadelphia Daily News, Philadelphia Magazine and City Journal, New York.