The Pennsylvania Railroad Stations of Tredyffrin and Easttown Townships
Greg Prichard, Historian and Lecturer
April 9, 2015
@
7:00 pm
–
9:00 pm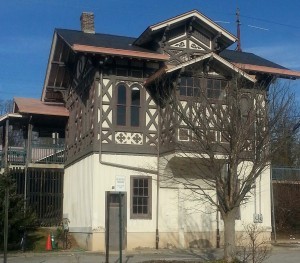 Greg Prichard an experienced designer, historian, and lecturer. A native of Wayne, he pursued a master's degree in historic preservation planning at Cornell University, where his thesis explored the history and preservation issues relating to the historic train stations of the Main Line. His business, Prichard Design & History Studio, focuses on bringing historic sites to life through projects such as interpretive signs. He is a board member of both the Radnor Historical Society and the Tredyffrin-Easttown Historical Society.
Greg will talk about several train stations of the Main Line, focusing on those in Tredyffrin and Easttown Townships. Main Line development began with the railroad as its commercial and social backbone, from the inns that depended on its patrons in the 1830s to the builders who clustered housing developments around train stations in the late 19th century. The stations were built as grand statements of corporate superiority and many remain as recognizable gateways to their communities.
Greg will speak about station architecture and history, myths vs. reality, the evolution and growth of the railroad in the area, and how past (and future) restoration efforts helped the stations to endure.
The Trust thanks guest lecturer Greg Prichard for his charitable sponsorship of  this lecture and his continuing historic preservation work in the community.