Alexander Hamilton: Architect of the American Financial System
Gene Pisasale, Lecturer & Living Biographer
October 27, 2016
@
7:00 pm
–
9:00 pm
Learn about the man who inspired the season's hottest show on Broadway, Hamilton!
The first lecture in the Trust Fall Lecture Series, "Alexander Hamilton: Architect of the American Financial System" will feature local historian and author Gene Pisasale as Colonel Alexander Hamilton. Don't expect Pisasale to rap or dance, but he will entertain and enlighten as he appears in full Continental Army officer's uniform to share the story of Alexander Hamilton (1757-1804).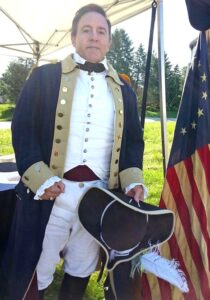 Alexander Hamilton is one of the most important, yet least understood of the Founding Fathers. Orphaned as a young boy on the island of St. Croix, he later emigrated to the colonies and fought as a soldier in the American Revolution. He became a trusted aide-de-camp to General Washington, serving through most of the war and fighting at the final victory at Yorktown. Hamilton was an important contributor to the U.S. Constitution and the Federalist Papers, later becoming the first Secretary of the Treasury, where he transformed a bankrupt nation into an efficient government able to pay its debts, issue currency and regulate trade. His accomplishments stand among the most critical in the founding of our nation. Join us on October 27, 2016 as Gene Pisasale performs a "Living Biography" as Colonel Alexander Hamilton.
Gene Pisasale is an author and lecturer who lives in Kennett Square in Chester County. An avid history buff, he started writing novels after 30 years in the energy and investment industry. He holds a Master's Degree in Petroleum Geology and an MBA Finance. Gene is a member of the Chester County Historical Society, Chadds Ford Historical Society, American Friends of Lafayette, Friends of Brandywine Battlefield and is an approved speaker for the Delaware Humanities Forum.
Books available for purchase and signing following the lecture.