Pickett's Charge: The Untold Story
Bruce Edward Mowday, Award-winning Journalist & Author
November 13, 2013
@
7:00 pm
–
9:00 pm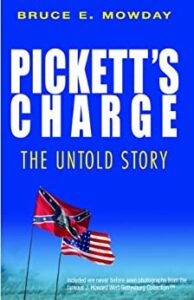 Released during this 150th anniversary of the epic battle of Gettysburg, Pickett's Charge: The Untold Story tells the story of the heroic defenders of the Union and especially the Philadelphia Brigade and its commander General Alexander Webb. Webb won a Congressional Medal of Honor for his valor that afternoon and later became President of the City College of New York. With the outcome of the Civil War in the balance, Webb and his fellow soldiers stopped the Confederates at a spot known as the High Water Mark of the Confederacy and saved the Union.
J. Howard Wert was a soldier, educator and author born in Gettysburg in 1841. During the Gettysburg campaign, Wert who was a special scout for the Union, was detained by Confederate troops but escaped and aided General Meade's Union troops. After the battle Wert and Frank Haskell, a member of General Gibbon's staff, rode over the battlefield and Wert began collecting items from the battle. He continued collecting for years. Wert wrote a guidebook and authored other articles about the battle of Gettysburg. Noted Civil War author Ed Bearss wrote of Wert, "Wert walked in the very footsteps of history … but most of all he was a patriot." Pickett's Charge explores what the Union soldiers endured during the charge by the Southern forces.
"About four years ago I stood near what is known as the High Water Mark of the Confederacy and looked across the field where the charge took place. I knew a lot about why Lee had to make the charge, General Longstreet's reluctance to make the charge and the Confederate soldiers that took part in the charge," said author Bruce E. Mowday. "As I looked to my left I realized I knew little of the Union defenders. They had a gallant story to tell." Mowday spent three years doing research at the Gettysburg National Park, PA Historical Society, Union League in Philadelphia and other reference libraries.
Copies of Pickett's Charge: The Untold Story and other Mowday books (price range $17 – $22), will be available for purchase and author signing at the lecture