Stone Houses – Traditional Homes of R. Brognard Okie
James Garrison, Architect & Author
April 23, 2014
@
7:00 pm
–
9:00 pm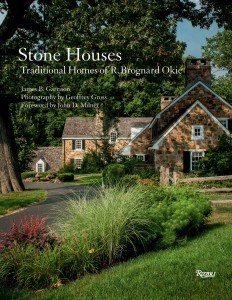 There is nothing tied more to the land than a stone house. Stone represents shelter, permanence, and local color. Traditional farmhouses were built with stone cleared from the fields making a statement about the wealth that could be derived from the land. Subtle differences in stonework communicated the growth of the homestead. At Hillside Farm, Okie's own house, the small 18th century tenant farmhouse was his living laboratory for over 40 years of additions and modifications as he perfected his particular interpretation of the local architectural vernacular.
The book "Stone Houses" looks at the precedents for Okie's work, a sample of projects from his 50 year career and current homes that exemplify the same approach to placemaking. Copies of James Garrison's book, "Stone Houses" will be available for purchase and author signing at the lecture.
A portion of all book sales go towards the historic preservation efforts of the Tredyffrin Historic Preservation Trust.